If you search for a list of eco-friendly cities around the world, you'll see the same places rise to the top of the list. Oslo, Copenhagen, Stockholm, Amsterdam. San Francisco. San Diego. Singapore. These are a combination of the most "green" and most visited cities, but it leaves off a ton of lesser-known, fascinating places that are rocking it when it comes to building a sustainable destination. Allow me to introduce you to 15 of the most sustainable places you didn't know existed – I can almost guarantee!
A few gentle disclaimers and reminders…
The most sustainable destination for you to visit is someplace nearest you. These places are eco-friendly on their own, but it doesn't necessarily mean that it's super eco-friendly for you to get there.
Also, these destinations are not undiscovered, and plenty of people have travelled there before. I am using the phrase "places you didn't know existed" loosely and from the perspective of a United States American who has travelled a lot and personally hadn't heard of any of these places until my recent research. If you've heard of these places before or are from one of these destinations, I mean no offense!
Most Sustainable Places in Europe
Torri Superior, Italy
When you think of eco-friendly destinations in Europe, you probably picture Scandinavia. Italy might conjure up images of over-tourism at the Trevi Fountains or Venice. Don't count Italy out yet, though!
Just a few miles from the Mediterranean Sea and the French Border in the foothills of Liguria, Italy lies a 13th-century medieval village who takes sustainability very seriously.
The village is one large building with a whopping 162 rooms, completely made of stone. In 1989, the village was restored after decades of degeneration and now it is home to 20 Italian and German residents. Half the village is open as a cultural center, while the other half houses its residents and an eco-guesthouse, which has space for gatherings such as conferences and yoga retreats.
The residents participate in permaculture and organic gardening, growing and making most of their own food. While the village is not heavily reliant on the electrical grid, what they do use comes from solar panels.
Check out their sustainability in practice here.
Grenoble, France
Impeccable public transportation that's nearly 100% green. More parks and public green spaces than you could visit in a month. Plus nestled in the Alps, to boot! If you're heading to or passing through the Rhone-Alps region of France, Grenoble is a must-visit.
While you're there, make sure to try the famous green drink, Chartreuse, which was invented and is still created by the "Ordre des Chartreux" – the Carthusian order of monks. It's still produced in Grenoble!
You can even access Grenoble's most famous site, Bastille, in an eco-friendly manner…by foot or by a cable car which happens to be Europe's first.
While a lot of eco-friendly travel can mean getting back to basics, Grenoble is a place where you can enjoy luxury and sustainability, side by side.
Frieburg, Germany
It may not surprise you that Germany is a leader in sustainability – their reputation of efficiency and order lends itself to making the most of their resources. The city of Frieburg is a leader among leaders then, and is considered the most eco-friendly city in the country.
Frieburg is situated in the Southwest coast of Germany in what's referred to as "Germany Tuscany", or the sun belt of Germany. Solar panels are huge, and cars won't be found on the cobblestone roads, reconstructed after World War II with intention to minimize traffic and maintain the medieval cities historic culture. There are 9,000 bike parking places, over 250 miles of biking trails, and a tram that is widely used. A majority of residents live within half a mile of tram, and over half don't own cars at all!
Frieburg is home to a university, and its large student population has been a major force in pushing Frieburg toward sustainability. Although Frieburg is often overshadowed in tourism by bigger cities like Berlin and Munich, eco-conscious travelers will love this green community and the many tourism offerings it boasts.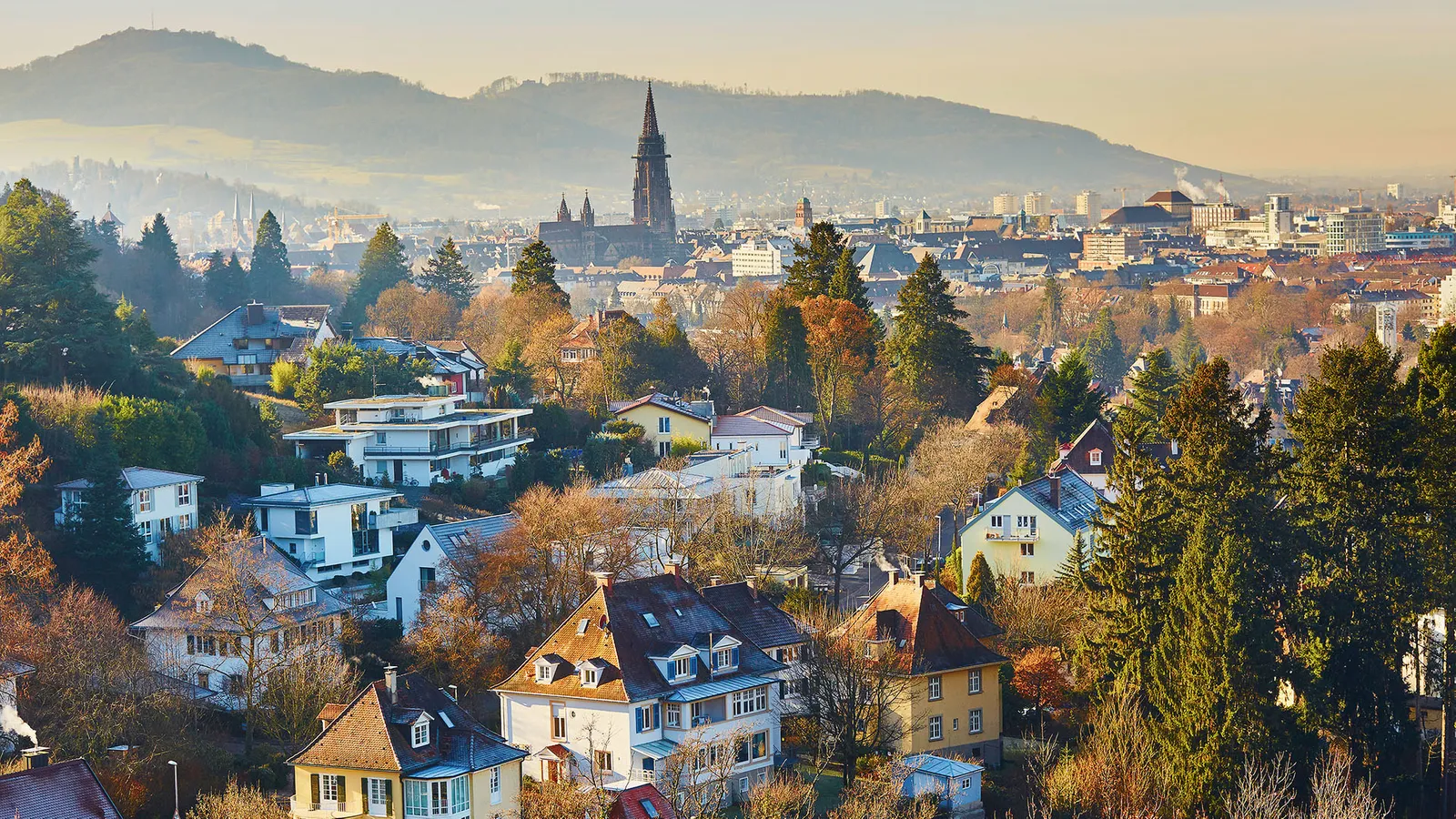 The Isle of Eigg, Scotland
If I could only vacation in one place in the world for the rest of my life, I honestly believe it would be Scotland. You can imagine how excited I was to learn about the Isle of Eigg, a 5-by-3 mile island south of the Isle of Skye, which has been voted the United Kingdom's most eco-friendly island.
Similar to Torri Superior, The Isle of Eigg has a small population of only 100. This small community has made big moves over the past decade nearly completely eliminating electricity and power. Instead, they get their power from world's very first grid operated powered by sustainable sources, from micro hydro, solar and wind schemes.
As is the case for much of beloved Scotland, history and breathtaking views are at each and every turn. There is evidence that humans have occupied The Isle of Eigg for over 8,000 years. And the remote nature of the island means the lochs, craggs, cliffs, beaches, and shoreline make this a true gem.
Goeree-Overflakkee, The Netherlands
You've heard of Amsterdam, but Gooree-Overflakkee deserves discussion too! This little island off Holland's southern coast had ambitious goals of providing its own energy by 2020, serves as a home for tons of eco-research, and offers endless outdoor activity in pristine nature.
In fact, it's so clean that it was declared "Best of Nature" at ITB Berlin (a major travel trade show) in 2019 and has also been voted "Cleanest Beach in Holland".
Rent an electric scooter or bike or even a noiseless boat and explore the plethora of different wildlife scenes, or take to the refreshing waters and join the kayakers, wind surfers, and divers. Birdwatchers will love the bird observatory, Tij, and historians will luxuriate in the authentic Dutch villages around the island like Goedereede or Middelharnis.
Most Sustainable Places in Asia
Apo Island, Philippines
Apo Island is a small volcanic island (covering only about 74 hectares) off the south of Philippines. It has become popular in recent years for its abundant marine life that draws scuba divers and snorkelers from around the world.
Despite the island's small size, it's doing big things in sustainability – the island is zero waste! Waste management is a struggle for most island nations as there isn't much room to actually put the waste. Community Management programs and information campaigns, largely led by the organization War on Waste, have spearheaed the monumental effort to clean up and protect Apo Island.
There are now an estimated 650 species of fish and 400 species of coral in the surrounding waters – an amazing result of conservation efforts and dedicated zero waste workers!
Khao Sok Lake, Thailand
Khao Sok Lake makes up the eastern portion of the huge Khao Sok National Park, and there is only one tour operator that will take you there (which shares the name Khao Sok Lake). The national park is a treasure, home to Thailand's largest virgin forest, which is more diverse and even older than the Amazon!
Inside the sanctuary of Khao Sok Lake, a local guide will take you by traditional Thai long-tail boat through this ancient landscape. Spend the night in the famous floating bungalows, go for a kayak or swim, or experience rural Thai culture through a homestay.
The best part is all the tours are community based, and carefully managed to protect the culture and nature.
Yilan Coast, Taiwan
We're headed to Taiwan for this eco-destination! This coastline stretches over 102 kilometers and there is no shortage of activities – camping, diving, swimming, hiking, cultural exploration.
Don't miss the Nanya Rocks for breathtaking rock formations sandwiched between sea and mountain. There is also a famous Sand Sculpting Festival every May through August where Taiwanese sculptures show off their immense talents that isn't to be missed.
History lovers will enjoy the Caoling Historic Trail with gorgeous landscapes and monuments along a 200-year old path that once connected Taipei with the Yilan Coast.
As an official National Scenic Area, there are administrative organizations dedicated to preserving the rich nature and culture heritage, through policy and careful monitoring systems, "including reduction of pollution, carbon emissions, waste, and saving energy." It even won the Green Destinations Silver Award in 2018 and Green Destinations Gold Award in 2020.
Most Sustainable Places in South America
Curitaba, Brazil
It always surprises me when giant cities are operating sustainably. Curitaba is the 8th largest city in Brazil, but they're doing just that, with a population of nearly 2 million.
To manage this urban metropolis, Curitaba has implemented a rapid transit bus system and lots of biking trails that make public transportation quick, affordable, and easy. There are over 28 parks, plus creatively installed grass fields around the city in lieu of dams to help with flooding. Fun fact – the fields are "maintained" by sheep which provide manure, wool, and oil-free lawn mowing.
Recycling is encouraged with programs that allow citizens to exchange recyclable waste for bus tokens and food. Curitaba even has a Free University for the Environment – a school designed to teach citizens about sustainability.
I can't wait to visit – can you?
Lake Tota, Colombia
Covering about 22 square miles, larger than some of the islands mentioned in this post, Lake Tota takes the prize for the largest freshwater lake in the Colombian Andes.
Lake Tota was a place of great importance to the Muisca indigenous peoples who used to inhabit the lands. The lake served as a religious site and is surrounded by Muisca folklore and mystery. Rumors abound of a "diablo bellena," or devil whale, that occupies the chilly waters (the lake is nearly 10,000 feet above sea level!) I'm reminded of Scotland's Loch Ness Monster and the many legends that have accompanied it over the years.
Fundación Montecito, a NGO founded in 2010 to protect wetland regions in the Andes, provides environmental education in local schools and operates several projects aimed at conservation and sustainable tourism around Lake Tota. Go trekking and wildlife watching, learn traditional arts like chair weaving, try your hand at watercolor painting, or connect with locals through one of the many tour opportunities – there's much to see!
Most Sustainable Destinations in Africa
Chumibe Island, Tanzania
Chumibe Island Coral Park is a privately owned nature reserve off the coast of Zanzibar, Tanzania. It was developed in the early 1990s to conserve the uninhabited Chumibe Island and as such, has sustainability built into every aspect of this bucket-list destination.
Visit the Coral Reef Sanctuary, observe rare wildlife at the Forest Reserve, or take in the natural beauty on a nature walk. Make sure to spend a few nights at the eco-lodge, featuring rainwater recycling, solar power, and composting toilets.
99% of the employees are local Tanzanians and the project aims to hire locally wherever possible, providing opportunities to have input on policies and practices on Chumibe Island, as well as receive training to advance their careers in tourism. The education doesn't stop at the staff – there is even an Environmental Education team that leads outreach programs for the community too. More of this around the world, please!
Khoadi Hoas Conservancy, Namibia
If you're looking for a eco-friendly safari experience then theKhoadi Hoas Conservancy might be your spot. This lodge is a unique experiment, funded by both the European Union and private sectors, but wholly owned by the Conservancy.
Your hosts are members of the local community. They can take you on fantastic tours to track Desert Elephants and Black Rhinos, or guided walks by foot (when the lions are away!) to see the flora and fauna up close. There are also opportunities for tours on conservancy farms among Damara homesteads, where you can learn from the local inhabitants who have long farmed on this desert terrain.
The lodge was designed specifically to "benefit and uplift the local community" through conservation of wildlife. To that end, there are several programs in place through the conservancy which support education funds and help relieve the burden farmers face of predator animals sharing their farm land.
Most Sustainable Cities in the Caribbean & Oceania
St. Eustatius
Another small island packing a big punch, St. Eustaitius, often called Statia, is Carribbean destination with pristine coral reefs, volcanos, historical walking tours, museums, and plenty of hiking trails to boot.
Spend an afternoon on this Dutch island enjoying the charming architecture, or get to know the locals through a homestay experience. Birdwatchers – make sure to leave plenty of time here! Divers too – there are a dozen shipwrecks waiting to be explored, with nearly as much to see underwater as above ground!
For the best views, save an afternoon the hike The Quill, the most highly recommended hike on the island, per the advice of the St. Eustatius National Parks Foundation who manage the land. This now dormant volcano affords fantastic views of the neighboring island. Inside the crater, a rainforest has managed to take hold for an other-worldly environment.
How often do you get to go hiking INSIDE a volcano?
Palau
Roughly 340 islands make up the nation of Palau which is dotted throughout the western Pacific ocean. Like many island nations, climate change poses a very serious threat. Tourism has also been growing significantly in the past five years or so, making sustainable tourism development more important than ever.
"Our environment is our economy; economy is our environment," explains the Minister of Natural Resources, Environment, and Tourism, indicating how seriously Palau is taking sustainability. A renowned location for diving, Palau designated 80% of its territorial waters as a marine sanctuary in an effort to protect the island's most precious resource.
No matter what your plans are, you'll be asked to sign the Palau Pledge upon arrival. The pledge is stamped into your passport and reads:
"Children of Palau, I take this pledge as your guest to preserve and protect your beautiful and unique island home.
I vow to tread lightly, act kindly, and explore mindfully.
I shall not take what is not given.
I shall not harm what does not harm me.
The only footprints I shall leave are those that will wash away."
Keep an eye out for businesses with the Palau Pledge logo – a sign that the "business will begin a journey to reduce their impact on the environment, lower costs, and attract new eco-minded customers – helping them grow, sustainably."
Douglas Shire, Australia
Oh Australia. A place that's long been on my bucket list and which has eluded me yet. When I finally make it there, Douglas Shire is one of the first places I plan to visit. This is an intersection of reef and rain forest, making for some hard-to-believe views. In fact, it's the only place in the world where two World Heritage sites come together – the Daintree rainforest and the Great Barrier Reef.
Visit Hartley's Crocodile Adventure wildlife sanctuary and ecotourism park, walk along the iconic Four Mile Beach, or tour the Daintree rainforest with an indigenous guide through the Mossman Gorge center.
Ecotourism Australia, a "not for profit, membership-based organisation inspiring environmentally sustainable and culturally responsible tourism", marked Douglas Shire as the first ECO-certified destination. They awarded this honor, both for the work they do to protect the environment and for their efforts to respect and include indigenous Aboriginal communities who have lived in the Daintree rainforest for centuries.
---
Ready for adventure?
I'm an eco-friendly travel agent and I'd love to help plan your next trip! Fill out my VIP Travel form to get started.
---
Like it? Save it to Pinterest!