Contrary to common assumption, Dubai is not just home to lavish hotels and shopping malls. A
new generation of tourists are being attracted to this large desert city by the ongoing construction
of renowned cultural institutions, museums, and design-focused businesses. If you enjoy an
adrenaline rush, other exciting possibilities include jumping into the world's largest dive pool or
sliding between the lofty floors of a glass building. Nearly anything is possible in this city, and
we have a list to prove it: these are some of the most liked things to do in Dubai, both traditional
and contemporary.
Aura Skypool
This 360-degree infinity pool, which is 200 metres up The Palm Tower, is the tallest one on the
planet. Aura Skypool provides unhindered views of the emirate in addition to a unique
swimming pool day pleasure. The Burj Al Arab, The Palm, as well as the surrounding gulf are all
visible from 50 floors up, providing a breathtaking opportunities to witness Dubai from above
and adopt a new perspective.
Jumeirah Mosque
The Jumeirah Mosque is well-liked by a variety of tourists and is also the most photographed
mosque in Dubai because it is the only one that is accessible to non-Muslim visitors. One of the
most stunning structures in the emirate, it is made completely of white stone in the mediaeval
Fatimid style, and it is especially stunning at sunset. Six days a week, visitors are welcome
(Fridays are reserved for prayer), and knowledgeable tour guides make the experience.
Deep Dive Dubai
This pool is the deepest on earth at a depth of 60 metres. It has a sunken city that scuba divers
can explore and 14 million litres of water. Only experienced divers are allowed to undertake
deep diving, which is specifically intended for people who appreciate the water. However,
everyone over the age of 10 is permitted to go snorkelling on the top and scuba diving up to 12
metres. Deep Dive Dubai is also the biggest underwater film studio in the area, with 56 cameras
and the ability to create different moods. It is without a doubt a must-try activity.
Hatta Dome Park
This desert glamping experience, which is conveniently located a short stroll from the Hatta
Wadi Hub, immerses visitors in nature by providing dome-tent accommodations, breathtaking
mountain vistas, and a wealth of outdoor activities just outside their door. Hatta is bustling with
outdoor enthusiasts and athletic travellers eager to discover the mountain range while seeking
solace from the city. These opulent tents combine luxury with adventure in equal measure. Each
has a patio, and a short distance away are fire pits, barbecues, and food trucks. The minimalistic
chic dome suites are tastefully decorated in desert-inspired tones and offer panoramic views of
the gorgeous Hatta mountainous region that encompasses them in addition to starry nights.
Ain Dubai
Ain Dubai is 75 metres taller than the London Eye and is regarded as the tallest observation
wheel in the world. The wheel, which towers over Bluewaters Island and is 250 metres in the air,
offers expansive views. This attraction is popular with schools, businesses, families, visitors, and
locals alike and is visible from numerous locations in Dubai.
Dubai Spice Souk
Of all the souks in the city, Dubai's enormous spice bazaar is undoubtedly the most exciting. It is
crowded and filled with enticing sights and smells. The same ingredients—Persian dried limes,
rose hips, barberries, saffron, and conventional Middle Eastern spice blends—are offered by
several of the merchants. Saffron is less expensive here in Dubai than it is abroad, although still
being expensive. The souk comprises shops offering anything from spices to handcrafted lamps,
apparel, trinkets, and everything between. It is a part of a complex that also includes three
Jumeirah hotels and an adjacent waterway. In addition, there are two dozen restaurants, both
inside and outside, as well as some of the most breathtaking views of the renowned Burj Al Arab
hotel.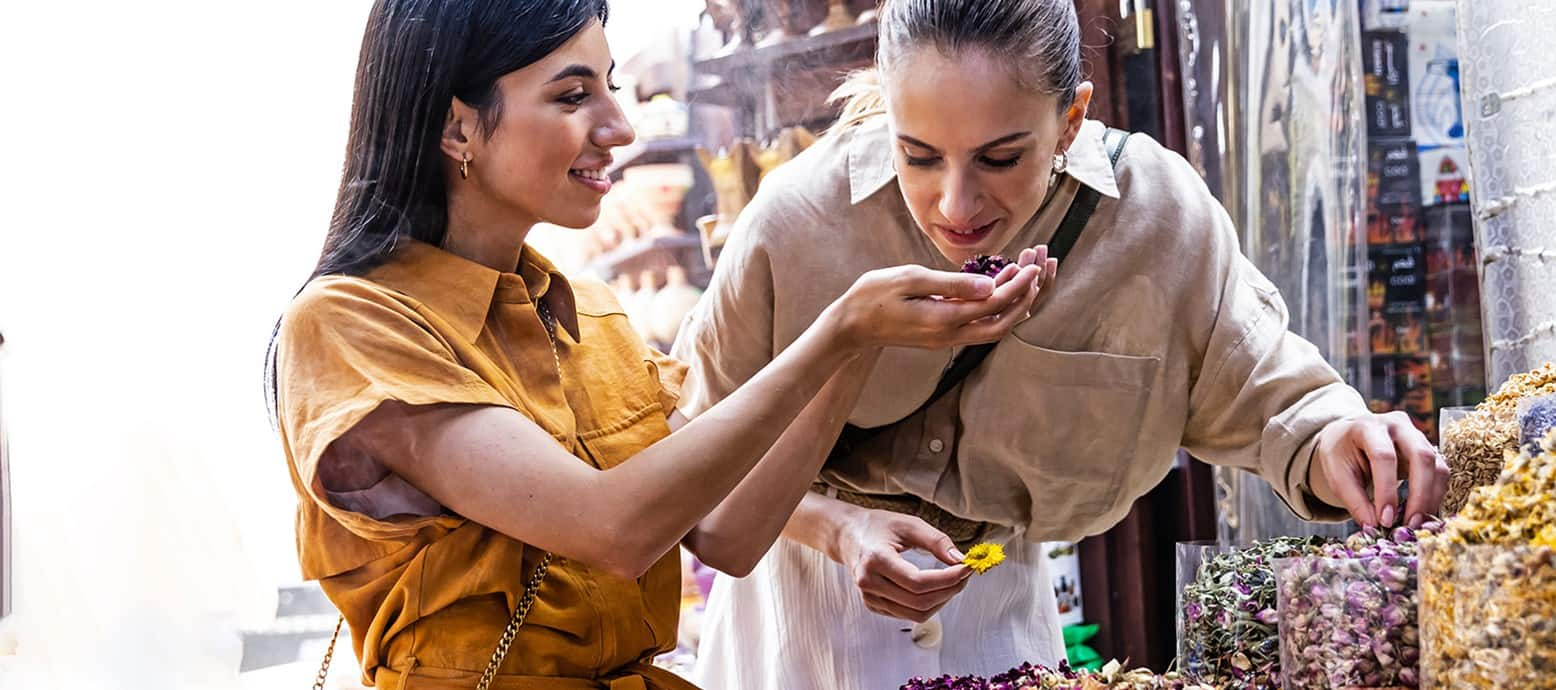 The Dubai Fountain
The fountains in Vegas are dwarfed by the highest structure in the world. Every day, a number of
fountain performances are planned that will fire 22,000 gallons of water 500 feet into the air
inside the 30-acre Burj Lake. Additionally, you can now get much close to the action than before
thanks to a new floating viewing platform. And best of all, it's free. You'll probably see the
fountains at the Dubai Mall if you go there, so take a moment to watch the spectacle.
Flying with Falcons by Balloon Adventures Dubai
The pilot, a skilled balloonist and falcon handler, is the only other passenger in your balloon
during your private adventure experience. Visitors are driven into the desert after being picked
up from their lodgings. Some of the most breathtaking views you'll ever see of the desert are
from above. In addition to the breathtaking undulating terrain, it is also possible to watch camels
and oryx ambling around the desert below. This tour is perfect for celebrating a special occasion
with a beloved one or for people who want to learn about the culture in a completely new way.
Reservations are necessary.
Global Village
The enormous Global Village in Dubai is essentially a theme park for all ages, however families
enjoy it because of the kid-friendly rides and other attractions. It is open from the end of October
through the middle of April and offers international attractions, rides, music, and eating. It'soutside of Dubai, so don't expect to fit it into a day dedicated to exploring the city, but if you
have the time and are curious about international entertainment and shopping it's worth a trip.
Dubai Safari Park
Around 3,000 creatures live in the 119-hectare Dubai Safari Park, comprising 78 different
species of mammals, including 10 different carnivores and 17 primates, 50 different species of
reptiles, 111 different bird species, invertebrates, and amphibians, from all over the world in their
native habitats. Here, you may see giraffes, leopards, elephants, lions, camels, moon bears, and
other stunning animals. You may go up and personal with some of your favourite animals and
discover the extensive research, preservation, and wildlife protection activities run by Dubai
Safari Park.
---
Ready to travel? I'm ready to help!
I'm a travel advisor who helps busy, eco-conscious people have once-in-a-lifetime adventures in breathtaking locations like Norway, Scotland, the British Virgin Islands, and Uganda.
I handle everything from daydreaming to departure and only work with tour companies who respect the planet and locals, so you can enjoy your getaway knowing you're having a positive impact.
Schedule a complimentary vacation planning session and let's talk about your next trip.
---